As an Amazon Associate, I earn from qualifying purchases through affiliate links to keep this website ad-free.
Learn more
.
Simple & Healthy Barley Water Recipe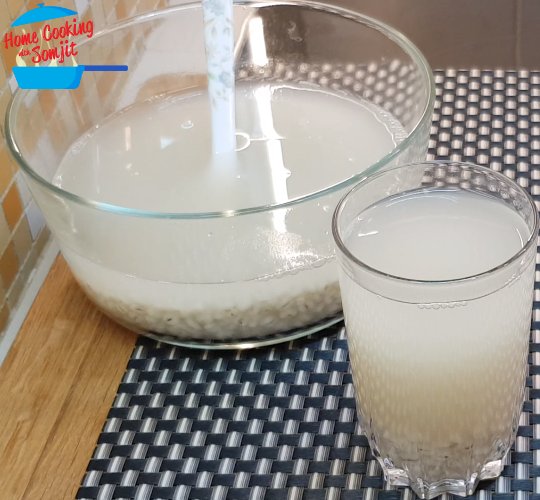 Barley water (or Barley Drink) is a cloudy drink that is mild in taste and has a refreshing flavour. However, it can be sweetened with honey or sugar, or made tangy with a little bit of lemon or lime juice. Yum!
This versatile drink does not only taste good, it also has a long list of health benefits. Barley water helps to reduce body heat, while its seeds provides fiber and aids in digestion. Barley seeds were even reported to promote long-term weight loss, due to feeling full after consumption. Do take barley in moderation, however. There's no silver bullet for weight loss. 😉
I often make plain barley water for my family during days of sweltering heat to aid in hydration and keeping the body cool – and after all those spicy meals! I usually make a big batch of barley water and store it in the fridge for up to a week, so it can be scooped and enjoyed chilled.
Commonly sold in coffee shops in Malaysia, the humble barley water is not commercially bottled and sold. However, to make and enjoy this drink, all one needs is a packet of barley seeds, drinking water, a large pot (for soups) and a ladle. If you have these, you can enjoy this drink as its preparation method is very simple – awhile reaping its numerous health benefits! 🙂
It all starts with the barley seeds. I use pearl barley – which is pot barley that has been polished without the outer husk.
---
Barley Water Recipe
Preparing the Barley Seeds (Overnight!)
Prepare 1 cup of barley seeds. Rinse thoroughly a few times, washing it to remove dust, dirt and debris.
Although the video instruction calls for pearl barley to be soaked for minimum 3 hours, this step can be skipped if pressed for time. The cooked barley seeds "open up" and become tender for consumption when the pre-soak is done. I usually skip this step as I enjoy eating barley seeds in my barley drink 😉
If the barley was soaked, give it a final rinse before straining the seeds and adding it to the soup pot.
Boiling Barley Water
Add 2 litres of drinking water to the pot. Hot water can be used to shorten the boiling time, however I use room temperature water as it is easily accessible.
Tie 3 mature pandan leaves individually and drop them in the pot for extra fragrance and a bit of pandan flavour.
The pandan leaves' essence will seep into the barley water, lending a more South Asian flavour to the drink. The leaves are not for consumption, however.
Cover the pot and boil on low heat. The seeds will expand and release its flavours to the boiling water, thus creating the nutritious barley water.
After 10 to 12 minutes, the barley water will come to a rolling boil. Watch over the pot and remove the lid when the barley water threatens to overflow. Allow to boil for another 45 minutes to 1 hour.
Give it a good stir with a soup ladle to check if the barley has swelled and somewhat softened. The barley water should have somewhat reduced and become cloudy that the seeds at the bottom are not visible. Turn off the heat and remove the pandan leaves with the soup ladle or a pair of food tongs.
Serving Barley Water
Allow it to cool in the pot. Scoop the water and add a spoonful of barley seeds. Serve as-is or with ice!
Storage Instructions
Barley water can last up to a week, chilled in the refrigerator. Before serving, add a spoonful or two of honey for a sweetened drink, or lemon/lime juice for a tangy drink.
Barley Water/Drink
A refreshing drink to accompany the spicy dishes – it helps to reduce body heat after ingesting so much chilli! 😉
Ingredients
1

cup

dried barley

pinch of salt

3

leaves

pandan

2

litres

water

syrup

,

optional
Instructions
In a large bowl, rinse the barley for a few times.

Soak the barley in water, for a minimum of 3 hours.

Rinse the barley, one last time.

Over medium heat, add the barley in a large boiling pot.

Tie individual pandan leaves into knots and add to the pot.

Cover the pot with the lid and bring the water to a rolling boil.

Once it achieves a rolling boil, reduce the the heat to low and allow the barley water to boil for 45 minutes to 1 hour.

When the barley has softened and the water becomes cloudy, turn off the heat and allow the water to cool.

Remove and discard the pandan leaves.

Dish out the barley water without the seeds into serving glasses.
Video
Notes
To sweeten the barley water, add syrup and stir while the barley water is cooling down.
Barley water can be stored in an air tight container in the fridge for a week.
Have barley water during hot days for a refreshing drink.
Barley seeds have little nutritional value after being boiled – have them for a change of texture.
Nutrition
Serving:
1
cup
Calories:
55
kcal
Carbohydrates:
14
g
Sodium:
2
mg
Sugar:
14
g
---
---